The Institute of Karst Geology visits Germany for Technical Exchange with BGR
[ Source:(Source: the Institute of Karst Geology CAGS) ]
[ 12-24-2014 ]
From September 1 to 8, 2013, as main members of academic delegation of China Geological Survey (CGS), Researcher Xia Riyuan, the assistant of Director of the Institute of Karst Geology CAGS and other two colleagues visited Germany and had a technical exchange on geological disaster monitoring and early warning, pollution prevention and development & utilization of karst groundwater with Federal Institute for Geosciences and Natural Resources (BGR).

Based on Geological Cooperation Framework signed between original Ministry of Geology and Mineral Resources, PRC and BMWI in 1979, this visit fulfilled the arrangement in Meeting Minutes 2011 signed by of Department of Science and Technology & International Cooperation of the Ministry of Land and Resources and BGR, and deepened the academic exchange and discussion in August 2012 when German experts in the field of underground water and geological disasters visited China. It is aimed at putting forward project proposal of research direction and research subject two parties are concerned with and having long-term project cooperation, deepening China-Germany cooperation from general cooperation and exchange to down-to-earth cooperation with mutual benefit, and achieving a certain effect in joint research and talent training.
On September 2, 2013, two parties had an academic exchange in BGR. Leaders and experts in the field of underground water and geological disasters of BGR talked about subjects like responsibilities of BGR, underground water research topics, application of underground water vulnerability assessment methods, hydrogeologic survey technologies of large karst springs, application of remote sensing technologies in geological disasters and surface subsidence, and underground disposal of radioactive waste. Chinese experts delivered academic reports. For example, Researcher Xia Riyuan and Researcher Zhou Shengzhang of the Institute of Karst Geology delivered reports entitled Karst Ground Water Movement and Circulation Mechanism Study on Haiyang-Zhaidi Subterranean River, Guilin and Vulnerability Assessment of Underground Water in Covered Karst Area respectively. The preliminary cooperation framework on geological disasters and karst underground water was created after discussion.
  
Members of CGS delegation made an on-the-spot investigation of landslide monitoring along the canal near Magdeburg, radioactive waste storage of abandoned salt mines and treatment of land collapse and ground fractures of closed mines in Bartensleben, Saxony-Anhalt, evaporite solution development features and surface collapse of gypsum mines in Heimkehle, development features of Rhume karst spring groups at the foot of Harz Mountains and tectonic property at the boundary of spring area. In short, goals of the visit were met.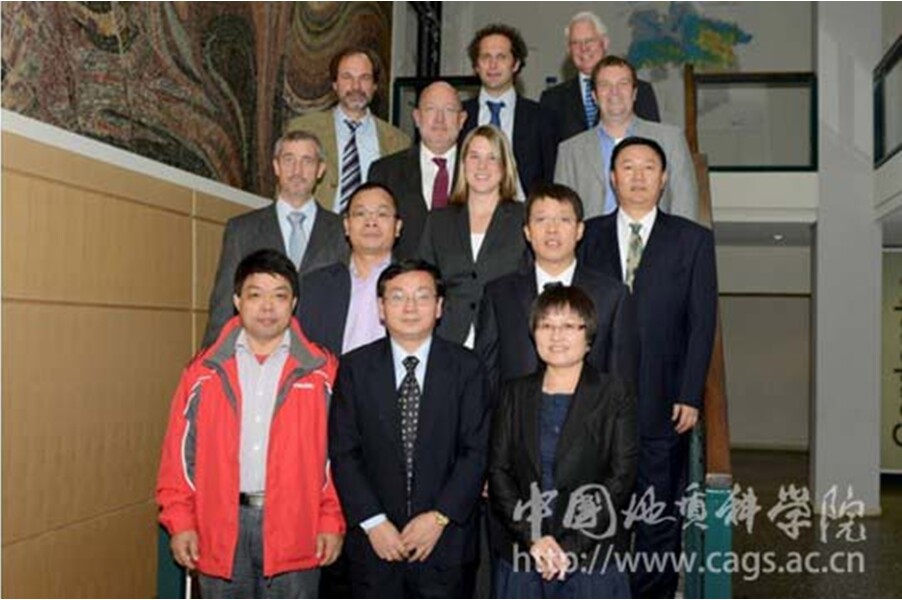 Delegation of China Geological Survey and research team of BGR
Investigation of landslide points along the canal
Academic exchange and discussion
Investigation of downhole deformation monitoring and radioactive waste storage of the abandoned salt mine